How Goettsch Partners leveraged Orbital Stack to power their early stage design
Short on time? Here are the quick highlights:
A proposed design for a luxury hotel includes elevated terraces, with semi-private pools and open-air spaces, suspended between two towers.
Located in a tropical climate, the designer wants to be sure that seasonally strong winds will not impact guests' comfort when using these outdoor spaces.
A CFD wind study was performed earlier than usual to detect comfort issues and allow for mitigations to be integrated from the start to avoid costly modifications later.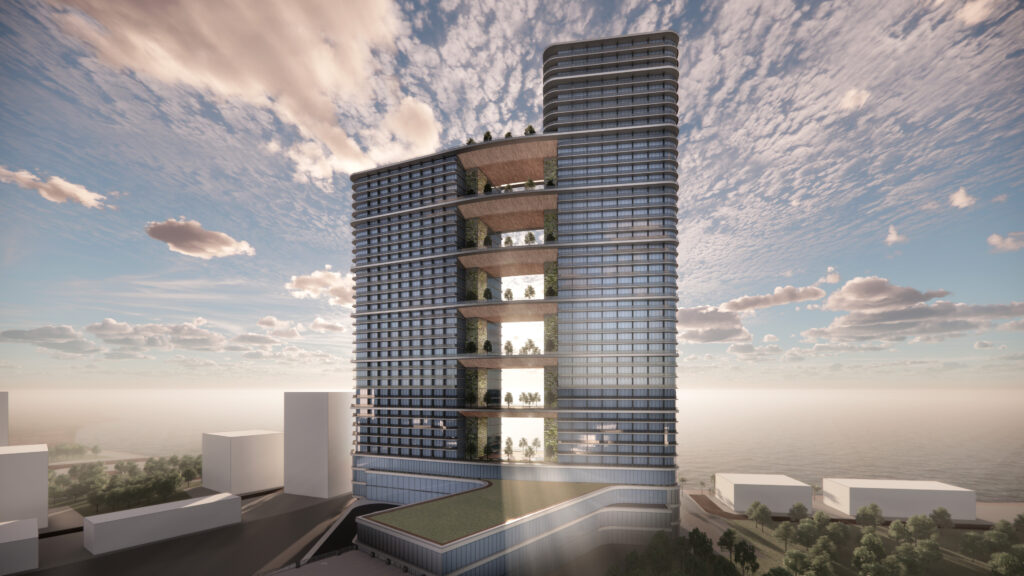 The ask
When designing a luxury hotel on a pacific island, architectural firm Goettsch Partners (GP) eyed a truly novel design to embrace the full potential of the site. As a signature element, elevated terraces—suspended between two towers on every fifth floor—would offer semi-private pools, open-air amenity spaces, and stunning, panoramic ocean views.
As a global architecture firm that prides itself on holistic design, GP understands unique design elements can often be complex. And given the tropical climate and seasonally strong winds for this project's site, GP knew that conditions could pose a problem for the envisioned design. They even had early ideas about how to mitigate potential problems.
GP decided to secure a CFD-based wind study earlier in the process, but struggled to find a tool that offered accurate evaluation of their ideas, with minimum effort, time and cost. After considering the available options, they brought their early-stage design to Orbital Stack, favoring its optimal workflow, RWDI heritage, and innovative technology.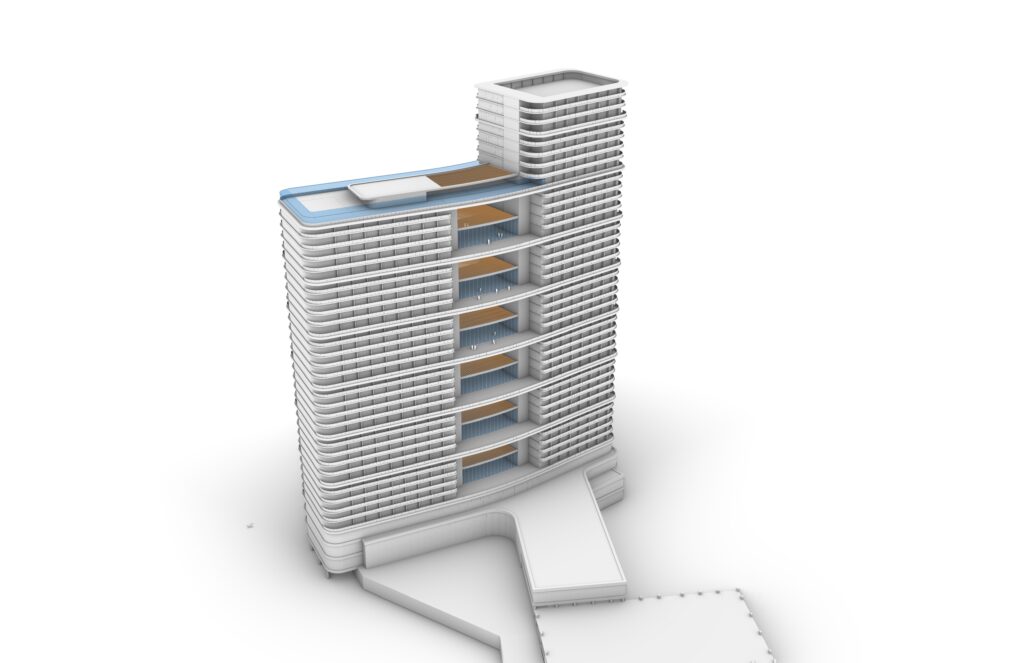 The challenges
The proposed outdoor terrace spaces were one of the main design features and proving out their use and viability was a priority. To ensure that GP didn't mislead their client—selling a grand concept that might later have to be constrained—the pressure was now on Orbital Stack.
The fact that GP had deemed other tools lacking in substance—too complicated to use, with results too layered to understand—wasn't lost on us. For GP to succeed with this project, Orbital Stack had to be easy to get started with. It also had to deliver quick results, be easy to understand and, most importantly, provide outputs that allowed GP to convey their vision to their client.
The solution
Using Orbital Stack, a baseline understanding of the weather's impact on the design was quickly established. And the tool was quick to confirm that GP's early suspicions were correct, pinpointing a wind flow that directly compromised the viability of the outdoor spaces.
Easy-to-interpret graphics clearly illustrated where the winds were originating, how intensely they came, and what times of day they impacted the site. This, in turn, brought a deeper appreciation of what the hotel's outdoor dining, lounging and poolside experiences would be. Indeed, GP's decision to test early was well-founded; they learned that their initial mitigation ideas didn't quite go far enough.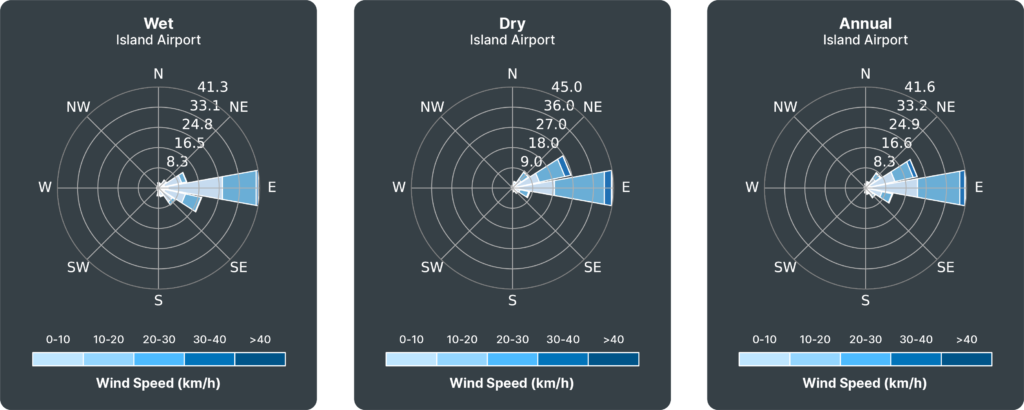 Through Orbital Stack, GP capitalized on their easy and direct access to RWDI's reputable engineers, offering solutions informed by decades of wind and microclimate studies. Consultation with a resident wind expert provided the guidance GP needed to effectively troubleshoot their early design and refine their ideas. RWDI engineers immediately knew the best options to test. This saved time and frustrations by reducing the number of design iterations and increasing their overall confidence in the final design.
Subsequent tests, easily submitted through the Orbital Stack platform, validated the design suggestions, and confirmed the best course of action.
"Architects are visual… Orbital Stack helps to solve early design issues and improve communication with clients clearly and effectively through a visual/tangible format that we are all accustomed to using."
Nickolas Popoutsis, Senior Associate, Goettsch Partners
The result
Orbital Stack provided GP with the requested insights into the local weather patterns, highlighting the challenges associated with the location. The studies were graphically applied to existing models in lieu of complicated charts and tables (useful only to the experts). The visual representation made issues readily apparent to the lay person without any engineering background. The graphics also made issues and recommendations much easier to understand and respond to.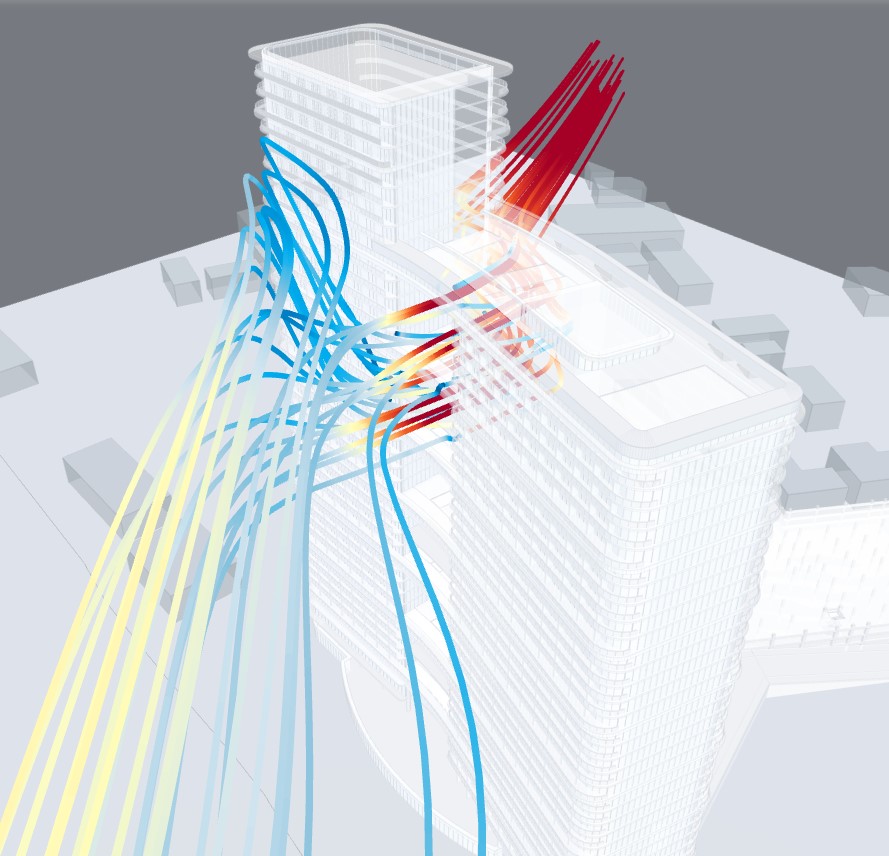 Seeing and understanding exactly how the wind would impact the hotel experience allowed GP to easily articulate issues to their client. In the end, Orbital Stack was used to generate powerful exhibits that helped GP tell the whole design and climate story. The client presentation even offered a poignant side-by-side comparison of base-level design results and revised design solutions. The design concept was elegantly revised to include the best mitigation measures, helping to sell the project.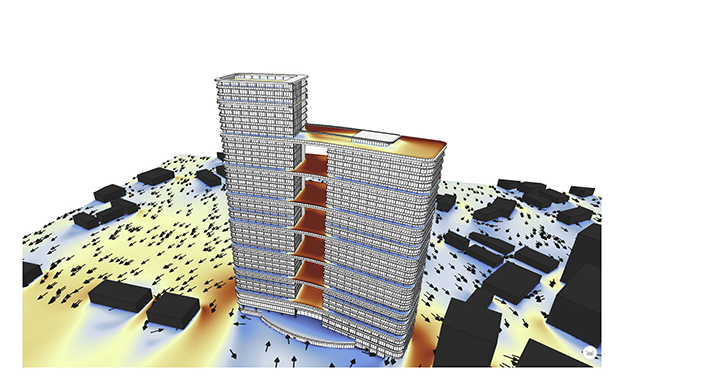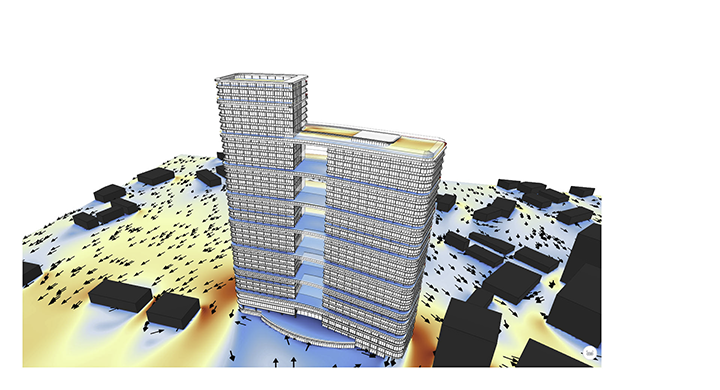 According to Senior Associate Nickolas Popoutsis, "Architects are visual. Many products deliver complex data, numbers and tables that need to be deciphered and interpreted. The clarity of imaging—accurate, easy read, and directly overlaid on the design model—is much more effective than traditional charts and graphs. Orbital Stack helps to solve early design issues and improve communication with clients clearly and effectively through a visual/tangible format that we are all accustomed to using."
For GP, Orbital Stack only reinforced the importance of doing the necessary homework around site plans—especially in less-than-familiar terrain. And it was a reminder of how the early detection of wind-comfort issues can end in both attractive cost savings and attractive design elements. Elements that are incorporated intentionally, right from the start.
Learn more about our vision and why RWDI turned Orbital Stack from a set of internal tools into a dedicated company.